Upcoming Events with Marjorie Favuzzi,
Certified Dare to Dream Life Coach, EFT Tapping and Matrix ReImprinting Practitioner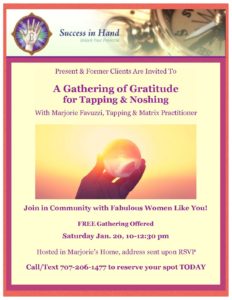 Gathering of Gratitude

Join in community with fabulous women like you!
FREE gathering for present and former clients.
Saturday, January 20, 2018
10:00 AM – 12:30 PM
Marjorie's home in Santa Rosa, CA
Address provided upon RSVP.
NO CHARGE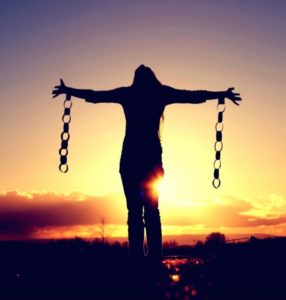 Breakthrough to Super Focus, Balance and  Self-Care
Many of us with great ideas and really intend to act on them, only to find ourselves stuck in the rut of procrastination and doubt, again. Confusion, frustration, and judgment, from the inner critic and others, sets in and freezes the good intentions so that goals are unrealized, and negative thinking is reinforced.  We feel that we'll never do it perfectly enough anyway, so we often fail before we've even begun.
This is a HUGE roadblock for many! But there is hope, tools and techniques to get you UNSTUCK.
Solution:
In Breaking Through to Super Focus, Balance and Self Care, Marjorie Favuzzi, CLC, will teach tools and techniques to break free of the barriers to turn your good intentions into real success. Using Marjorie's signature Turning I Can't into I CAN!™ process, you will become focused, let go of old stories, and distinguish facts from FEAR. Right action and success follow!
In this introductory workshop you will:
Recognize limiting beliefs
Tap away the roadblocks that keep you stuck
Learn easy brain exercises for super focus and self care
Create goal-oriented strategies for accountability & SUCCESS
Saturday, March 24, 2018
10:00 -12:30
Success In Hand, 850 Third Street, Santa Rosa, CA  95401
$27
Pre-register or pay at the door