Upcoming Events with Marjorie Favuzzi,
Certified Dare to Dream Life Coach, EFT Tapping Practitioner and Brain Instructor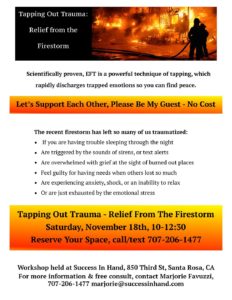 Tapping Out Trauma: Relief from the Firestorm

The recent firestorm has affected different people in different ways, and each of them is valid for that person. Some of us can't sleep, some are triggered by hearing sirens or text alerts, some are still holding smoke in their sinuses or lungs, or have back pain from literally holding on to the point of having spasms. Some are still living in the fear or perhaps feeling guilty that their house didn't burn down when other people lost everything. Previous traumas are coming forward as well, though you may not recognize it.
Tapping really helps all of these symptoms
Saturday, November 18, 2017
10:00 AM – 12:30 PM
Success In Hand
850 Third Street
Santa Rosa, CA
NO CHARGE